Columbus Day Regatta 2004

arr!
this weekend was great. ed invited me to go with him and his friends to the
columbus day regatta
in miami. i'd heard of the race before, thanks to ed, but knew nothing about it. however, i started to get an idea what it was all about when every conversation i had about it went something like this:
co-worker/mailman/etc.: so where you going?
me: columbus day regatta.. it's a... [starting to explain]
c/m/e: oh yeah, that naked thing!
first of all, a cast of characters:
ed:
my lovely boyfriend. this sweetie chose me along despite the fact that this is a "naked thing." now i
really
know he likes me. :)
dan:
i love dan. he's funny as hell and just as nice. dan and his wife tracey own the boat we sailed on, as you see above.

tracey: dan's wife. one of the most socially gifted women i've met. that's snippy in the picture. i love snippy. despite the fact that she really -- spontaneously and unprovoked -- lives up to her name.

chris: sailor dude from naples. he's the guy who everyone's wife hates. maybe it's because i'm just a girlfriend, but i thought he was cool.



dave h.: i specify the h because it seems that 80% of men who take up sailing are either named dan, dave, or don. he's from south africa and a super nice guy. despite the fact that i get the impression he's a well accomplished and weathered sailor, he's encouraging and kind to us new folks.



ernie: one of ed's very close friends and now his boss! the type whose mom is very proud, except for the fact that he is the owner of multiple snakes.

stef: stef is like one of the guys, only with the good "girl" traits - she's super nice and patient enough to teach me how to do things. i'm very proud of my gender when i watch stef kicking ass. i'm saving this spot for a picture of her with a boat in the background equipped with a seven-foot dick. check out her website.

the columbus day regatta started out as respectable sailboat regatta 50 years ago. as sailors do, after the regatta, they'd gather together to drink their rum and smoke their smoldering plants of choice. soon, the party afterwards started to be as much, if not more, of an attraction than the race. it became a gathering featuring thousands of boats rafted up together in the waters of east featherbed bank in biscayne national park to party it up.

i took friday off of work so i could enjoy the boat ride down and get an early start on my weekend of sun and water. ed, stef, dave, dan, and i left dan and tracey's place at about noon and started cruising south in the choppy atlantic waters. i'm sure they weren't "choppy" to someone who's used to the water, but i've been blessed with smooth waters every time i've been out on the boat. so, of course, i fought the nausea for a while and then hurled myself over the side of the boat. luckily, i was able to keep the "if you're gonna puke, do it downwind" advice in mind. soon after, i was able to sleep and woke up right around the time we entered the calm waters of biscayne bay. i was soon up and about, trying to disinfect my mouth and eating goldfish. you know, the crackers.
unfortunately, while brushing my teeth for the fifth time, i missed the boys on the boat mooning a cruise ship. i wasn't able to get a picture, but am guessing it looked something like this:


we met up with tracey and ernie, who were unable to get away from their jobs early, at the rickenbacker marina, where we docked for the night. this is the marina from the air:



and this is what it looks like from, you know, the ground:



pretty, huh? i saw some cute little trunkfish-looking things eating barnacles off the sides of the boats. to increase the cuteness factor of this post, here is a baby trunkfish: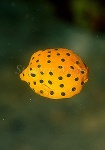 chris day soon met up with us. we all piled into chris's car.. yes, eight of us in an infiniti means that three of us were sitting on others' laps.. and went to some restaurant whose name i don't remember thanks to their stocking a beer that i actually like. we took the clown car back in a death-defying trip and the boys started in assisting dan with his friend gil's 60-foot sailboat. apparently he got it for something like $55k and is fixing it up for a two-year cruise through the islands and/or south america. we took a tour.. during which i didn't bring my camera.. and the place had something like four showers, four bathrooms, and, like, ten bedrooms. it was ridiculous. he had yet to take it out of the marina so needed sailor dan's assistance. eddie and chris crawled into the dingy to whirl around the monstrous boat as it left the marina and keep us safe. i rode on deck, admiring the stars and idly wishing that i had some rollerskates to take advantage of all the space. gil motored us safely into the open waters and chris gave ed and i a ride back to wind pirate. i don't know how fast we were going, but it's probably near the limit of the inflatable boat.. scary/very fun. :)

the next morning, we awoke bright and early for race day #1.

we woke up somewhere in the 7's for the 10:30 race. everyone got up and got the boat ready, had coffee and breakfast, and took turns ruining the head (bathroom) for everyone else.
i'm not too great at recounting the racing events since most of the conversations which take place during the race are just cocktails of words like jib, hoist, douse, main, sheet, traveler, etc. i.e. "douse the main!" yeah, don't ask me. for the most part, i don't know what's going on, but i do try to pay attention in between trying to stay out of the way.

ed told me that there's a saying that sailing is hours of boredom interspersed with seconds of sheer terror. i giggle and think of that every time we have a terror-packed 30 seconds and then we settle back into enjoying our lovely south florida. well, i think of it after. see, you kinda just sit there.. or, at least, i kinda just sit there.. other people are sitting there, too, but are, say, watching the sails or preoccupied with our navigation, etc. then all of a sudden we have to raise the spinnaker -- the big, pretty one -- or take it down. or change direction. these things all involve lots of yelling, the boat moving suddenly, and ropes possibly flying at your face. until i took note of which rope it was i had to worry about during tacking, any time the word "tack" was mentioned, i froze in horror. if you're not behind the light-blue rope before the tack, it'll come for your neck! aggh! the start of the race is talked about in this article which appeared in the sun-sentinel. if you're paying attention to my pictures, you will realize that the boat talked about in the lead paragraph is indeed the one i was on. i saved the story onto my website.
i didn't get any pictures on Saturday's race, but we did quite well, surely thanks to my sandwich- and beer-fetching. wind pirate finished first. i'm so impressed with the crew. then we headed towards the party..
these are tiny, btw. go to http://www.flickr.com/photos/jisou/ for bigger versions. they will also, like all photos, eventually be at http://photos.yahoo.com/ji_sou



first view of the party.




more boats.
i was taken on a little dinghy ride through the mayhem. as expected, it was a big party on the water. lots of music, drinking, waterfighting, and lots of skin.


me, admiring ta-tas.

on strike. heh. this guy was going to wake up so hurting.

this little gay man was doing a little gay dance for us. "like a young tom jones!"
after some drinks and a nice shower, ed said he was going to take me on a nice little dinghy ride. chris and dave crashed it but said we could get rid of them by taking them to "bob & colleen's boat" where they intended to steal their dinghy. we pulled up quietly to a little boat with christmas lights strewn about the back of the boat and chris and dave ungracefully clambered onto their boat. we pittered away as they still tried to get the dinghy started. "what happens if they don't get it started?" i asked ed. "their problem," ed responded. anyway, that was fun! then we picked up ed's friend trish, her boyfriend, and another couple.. the male half of which had apparently had a lot to drink and seemed to be very interested in either 1) seeing some tits or 2) finding out the score of the texas/oklahoma game. some complete bitch sprayed me and my freshly shampooed hair with saltwater. we saw a stripper and some more naked chicks. yes, as you can imagine, it was a very romantic little boat ride, like being in venice.
so anyway, after that, we retired early to our comfy little berth for a good night of sleep. poor ed missed out on so much excitement (see chris story below).
same story for sunday - wake up early, drink some coffee, eat some bananas. lucky for us, it was another absolutely gorgeous day.

gee, what a surprise – ed sittin' on his ass and me doing all the work. as usual.

well, okay, he worked a little.
actually, this is the first time i really got to do anything on the boat. i'm typically what they call railmeat. however, we woke up sunday morning one crew member short so they crossed their fingers and put me to work. i pulled ropes when needed and was taught how to trim the spinnaker, as you see me doing above. on the cruise home, they also let me drive!



obviously, none of them have been a passenger in my car.
how did we lose a crew member? chris got himself arrested. charges are still pending, so i won't go too into detail, but the story does involve some alcohol.. a stripper.. and chris jumping off the side of the police boat in an escape attempt. i told you he was cool.
this is don's catamaran, double trouble. do you italicize boat names? anyway, the dinghy is named 'no trouble' which i think is terribly clever. i'm sure i'll post about my love of boat names and the cherry-on-top cleverly-corresponding dinghy names at a later time. don's a good guy and his son, chris, is funnay. . especially appreciated when the wind dies and you're left in the middle of an ocean during the middle of a race.... and not moving an inch. they're lucky they're nice or i'd probably take the fact that they spent the hurricanes this year on this lovely boat in the keys personally.

ed looking confused (and cute) at the suddenly mute bridge operators.




the only other picture i got of ed & i (it's hard being the photographer!), we are both wearing incredibly fake smiles. so you get this one instead, which ed didn't know was being taken.




the view from the, um.. bow. see, i'm getting the terms down.




figurehead by day, company for a lonely boater at night.




foxy first mate.




wallenius wilhelmsen. bethy, i thought of you when i saw this. don't ask me why. maybe because it reminds me of baby bjorn. baby bjorn wilhelmsen?




some rich bastard's helicopter was landing on his yacht. okay, showoff.




in south florida, even the iguanas have more money than me.




chris (the one on the right) who was at the downtowner to greet us as we passed. looks pretty clean for a guy who just got out of jail, huh? i guess the escape attempt/bath was good for something.
so anyway, that was columbus day 2004. lots more firsts for me. and lots and lots of fun. :)