Weekend
We headed off to Bimini again this weekend. I had had, like, no sleep for Wednesday and Thursday nights, so I was feeling
rough
when I had to get up at 5:45. I napped on the way out to the ocean, but then it started to get a little too rocky to stay in the cabin.
The water wasn't great on the crossing, but it was do-able, much moreso once we found a boat to follow. Staying in its wake, it was damn-near calm. It took us 2.5 hours or so. We went into the marina where I got to
sit still
for a while and eat some breakfast. Chris took care of immigration.
Oh, an example of how great Chris is:
Me: Did you happen to bring my wetsuit?
Him: Yep.
Me: Oh, I didn't look up the dive sites. (Like he has asked me to during the week before.)
Chris: I did.
Me: You rock.
:) In my defense, I didn't know until I got up (quite late) on Thursday and had a text message from Chris saying that the water was going to be calm so we were going to try to make the run. Before that, I thought Bimini was
out
of the question.
So anyway, then we went to a dive site that I don't remember the name of. I'll have to ask Chris. It was a great dive!
Then we went to the
Hesperus
, a wreck fairly far away. Once we got there, there was no mooring. Chris started to worry that he had the wrong coordinates. Then the GPS kept telling him to turn right. Turn right, turn right, turn right. Then I spotted a rope floating in the water - lucky us, we had found it!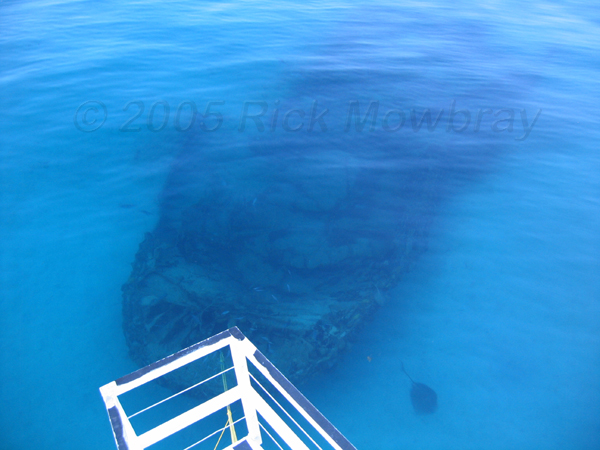 (Not my picture.) We could see the wreck from the boat, but the viz was so not like this that day, alas.
And the water was GREEN there, which was weird. And the visibility was bad
,
strange for the Bahamas. But it was cool anyhow. It was very shallow - around 15 feet. The whole thing that was striking was just the sheer number of fish. They were EVERYWHERE. Walls of grunts.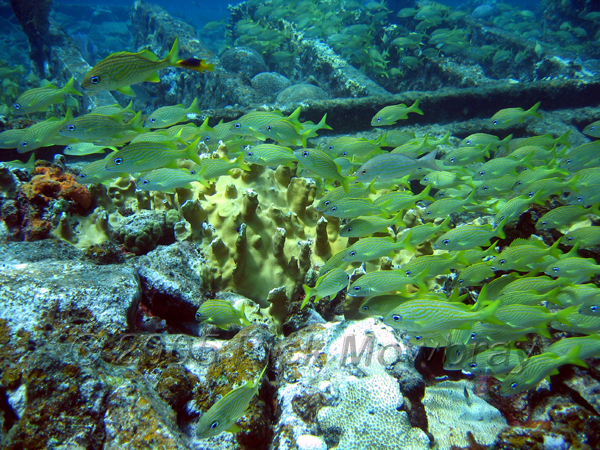 (Not my picture.)
Around the wreck floated more barracuda than I've ever seen. And they were huge. They're pretty benign, but I did cover my ears (and my sparkly silver earrings) when one began to approach me. We saw grunts, hogfish, and anemones with their resident shrimp. The place was like Stingray City, too... They glided by all the time. More than once, I counted four in front of me, flying by like a flock of birds. Once in a while, one would hunker down in the sand, wiggling to allow the sand to settle on their "wings." Chris asked later: Do they
really
think we can't see them if they do that? Hehe, I dunno. Oh, yes, we saw three sea turtles (or one sea turtle, three times) on this dive. So cool. :)
This is the Hesperus, only the water was green: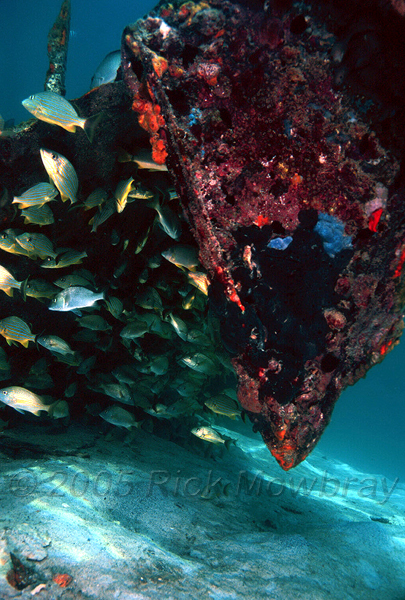 (Not my picture.)
That night, we went back to the marina and watched fireworks from the dock, then walked over to Big Game for dinner at the bar.
We woke up bright & early on Saturday, and by the time we got everything packed up - it was raining! So then we sat for a while. I read. Chris relaxed (for once). After the rain trailed off, we headed out for gas and then to the Sapona, but it was starting to rain again once we got there which stirred the water up. It was too rough to enjoy, so we went to Honeymoon Harbor instead. There, I snorkeled around and was molested by various stingrays. I actually was brushed up by them this time; they must have been hungry. People feed them there at the shore, so when I saw some people heading over with fish, I followed and was able to get some pictures and video of the feeding. I will upload that soon.
It started to rain pretty hard, so I headed back to the boat. Took a shower with the fabulous sunshower. Hunkered down and watched the rain. Some other boats there didn't have cover like we did, so the people were stuck in the rain... It was raining too hard to head back (one boat tried, and came back a few minutes later) so they were stuck just sitting there. Thankfully, I am pretty sure they were drunk - they hopped into the water and kept drinking. They were having a blast! The rain was cold and the water feels cold eventually, so I was pretty much in awe of these people.
(Not my picture - of Honeymoon Harbor.)
After it cleared, we pondered our options. It seemed we would stay the night again, since storms were everywhere and that's dangerous to head back in. But the seas were supposed to pick up on Sunday, so when Chris saw a path through the storms on the Doppler (boat GPS units are cool), we decided to make a run for it.
The first few minutes were nice and calm, but then the waters started to pick up. I had to put my book down and concentrate on our wake. The water actually got rough enough that I got scared - a first on the boat. The Whaler can't sink, but she can capsize, a fact which came to mind when a wave would tip us over on our side. The only things that reassured me was the fact that Chris hadn't told me to put on a life jacket and the helicopter I saw overhead a couple of times. If we went over, at least they would see!
To keep my mind off things, I thought about what the dogs would do when we got back - how happy they would be. Thought about Julia Roberts movies (?!). Watched for birds and flying fish.
A small craft advisory was in effect today, so we're really lucky we came back yesterday. We would have been stranded! Chris would have had to fly back here for work, if that's even possible from Bimini.
After we got to Bimini and were in the marina, Chris said that he thought he was over Bimini. This would be the last trip. I usually feel pretty sour towards the trip right after a crossing, so this wasn't surprising. But, like the other times, when the trip was coming to a close, we were both in love with the place again and were talking about next time. Next time I have to remember oatmeal to feed to the fishes and shrimps for the stingrays at Honeymoon Harbor. Next time we are going to be more choosy about the water/weather forecasts. Next time we're going to dive the Sapona again.
:) :) :)
Oh, and as I thought, the dogs were
ecstatic
to see us home. Gretchey cried from the backyard at us as we docked. The other dogs barked. Maggie jumped as high as my head when I went to the side to say hi. They're so cute.