Phew
OMG, i'm so grumpy today.
i let the dogs in to play this a.m.
gretchy picked the lock (big surprise) and got into the off-limits side of the house and got into sebastian's meds. i couldn't find them so assumed she ate them all and was losing it.. well, thankfully i found them.. but i had already been getting a headache last night, and i guess that was enough to push it over the edge, because by the time i got to work it was hurting. whee. i took an imitrex, and it no longer HURTS, but it's there. there, threatening me. (are you THREATENING me?!)
but anyway.
onto happy news! i got my
diva cup
- it's great! i was using my beloved insteads for a while, but felt guilty all the time for just throwing them out. so environmentally unfriendly of me! so i finally took the plunge and got the diva cup. and, as advertised, you can't feel it! yay!
if you check out the website, you are also allowed to giggle at the fact that i got a
p-style
. i have yet to try it out, but look forward to peeing standing up sometime in the near future. :)
yesterday:
breakfast
of spinach, handful of baby carrots, protein & fiber powder, banana - in a shake. as usual. today, chris got one too and he was
sooooo
happy about it.
lunch
: greens salad with blueberries, apples, and walnuts, raspberry vinaigrette, kiwifruit on the side. also, i pulled a small section of bread off to eat with my salad, but you'll understand once you read about the carbfest i resisted.
snack
: half an apple (chris at the other half) with almond butter. god, that's freaking good.
dinner
: shrimp fajita at oceans grille.
dessert
: edy's sorbet pop (120 cals). to drink:
three
32-oz nalgenes (almost) and 2 green teas. i learned yesterday that i should be getting more like 130 oz of water each day, instead of the 64 or so i thought i should be getting, so am picking that up.
exercise
: 4 miles on the treadmill. well, like 4.1 miles. it took almost 50 minutes! (the treadmill is all messed up and i didn't know what i really did 'til i was all done!) i have decided to follow the Chris Theory on exercise, going a
distance
instead of a time. he goes 6 miles on his 6-mile days, regardless of how long it takes him. that way, you don't get off easy if decide to be lazy. it just drags your session out longer. i like that. but that didn't stop me from walking at 4.3 sometimes last night. but, in turn, that did motivate me to run at 6.0 sometimes. :)
i am now on full-dose topamax. have i experienced weight loss? no. well, yes, actually.. just a little.. but more to do with all the fruits & veggies and the elbow (treadmill?) grease than side-effect decrease in appetite, because i have not experienced one. this is good, because i get the impression that the folks that get
that
side effect also get the other ones. the feeling of one's head "melting." or like susan, forgetting who she was talking to on the phone mid-conversation. or the more serious ones i have read about. i haven't even experienced the very, very common one of not being able to drink anything carbonated. my sister got this one. my sister is also nauseous from the topamax, gets drowsy from it. i'm not. i get tingly fingers sometimes when i'm driving. falling-asleep feet. that's it. i really gotta watch my water intake from this, too - apparently kidney stones (which are apparently very painful) are fairly common with topamax if you don't really watch your water intake. i really should be getting at least 120 oz of water per day, topamax aside.. WITH topamax, i definitely should be drinking that much or risk kidney stones! whee!
it also hasn't seemed to affect my headaches.. sadly. but i guess it takes a good month before a decrease is shown. you have to give it a good 2-3 months to really feel that effect, so i have to be patient. i mean, shit, i worked out INSIDE with a FAN BLOWING ON ME last night. of course, i waited too long to eat afterwards, after a shower and a bike ride to walgreens AND A WALK to the restaurant in the heat.. mistake.
anyway, i am quite proud of the overhaul i have done on my eating. i have always wanted to get more fruits & veggies and i am finally doing better. namely on the veggies. :) a co-worker commented on my lunch yesterday. "look at you, stacey, you're so good!" i was eating my salad, as
everyone
else
in the room was eating the leftovers of a catered lunch from a meeting. it was a serious,
delicious
carbfest: the largest garlic rolls you've ever seen, mini pizzas, danishes, plates of meat (not that that's a temptation for me, mind you) and rolls with condiments to built your own sandwich, and lasagna. i took maybe an inch off one of the whole wheat rolls just to have a little bit of bread and that's it.
i joined that CSA a couple of weeks ago. just got half a share to start out, to see how we use it. hopefully we'll be using those greens and the other veggies! if we don't eat them with dinner, they're getting juiced into our morning smoothies!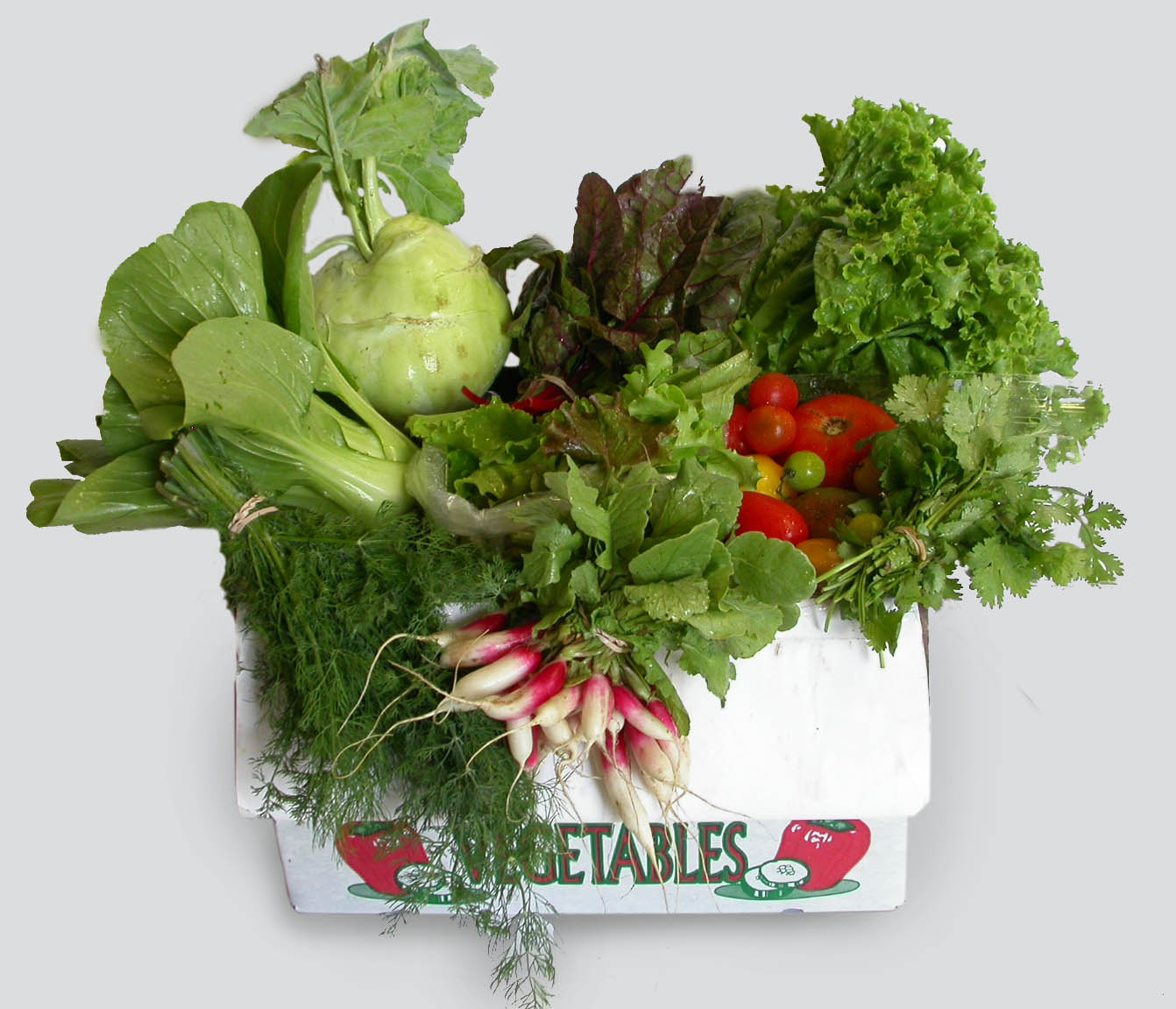 this is a sample full share. i think a half share is somewhere between 1/2-2/3 of this. the veggies inside change all season. the season starts in november - yay! all the produce is LOCAL & ORGANIC, too. and you get surprises here and there - a pint of strawberries, a jar of honey, etc. :)
chris doesn't usually eat breakfast, but he told me that he would agree to drink a smoothie as long as it didn't taste bad.. and he agreed that it didn't taste bad, so this morning he drank one. i'm happy with that. :) my busy boy needs some fuel! i am toying with getting a juicer, but will definitely be mixing the juice pulp back in. i like the smoothies better than the straight runny juice you get at the juice bar.
blah blah blah blah. :) ok, enough veggie talk - time to go eat some!